Seth Green
Lessons in Nonprofit Management (campusCATALYST)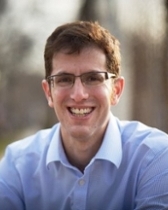 Seth is a non-profit leader with a passion for expanding opportunity and ending poverty.  He has spent the last 15 years working for organizations that are moving the needle on poverty through education, social services, job training, and economic development.  
Since 2011, he has served as the executive director of Youth & Opportunity United, an organization that annually supports over 1,500 youth in their academic, social, and emotional development. With a $4.5 million annual budget and 70 talented staff, Y.O.U. is a leader in providing young people and their families with high-quality out-of-school learning, mental health counseling, and community school leadership. During Seth's tenure at Y.O.U., he has spearheaded a programmatic expansion from serving 450 youth to serving 1,500 youth and led a $15 million fundraising campaign, which included launching the organization's first-ever endowment and building a new youth center and headquarters.
Before joining Y.O.U., Seth led the Job Opportunity Investment Network (JOIN), a public-private partnership that builds pathways out of poverty for vulnerable adults and their families. At JOIN, Seth developed a network of innovative job training partnerships that helped over 400 adults gain new skills and higher wages each year.
Prior to JOIN, Seth was a consultant at McKinsey and Company, where he worked with private sector clients to develop shareholder value creation strategies, launch new product offerings, and implement strategic partnerships. A recipient of McKinsey's Community Fellowship, he spent one year of his time at the firm supporting non-profit clients such as the Gates Foundation and United Way.
A Marshall Scholar, Seth has a bachelor's degree from Princeton University, master's degrees from the London School of Economics and Oxford, and a law degree from Yale. Seth and his wife Caitlin Fitz, an assistant professor of history at Northwestern, live in Evanston, Illinois, and are proud parents of two adorable girls: Sojourner and Lundy.
Back to top