Brayden King
Leadership in Organizations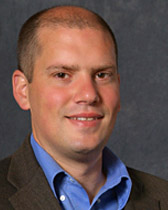 847-467-6950
Jacobs Center Room 389
Brayden King is a professor of Management and Organizations and is also affiliated with the Department of Sociology. Professor King's research focuses on how social movement activists influence corporate social responsibility, organizational change, and legislative policymaking. He also studies the ways in which the reputations and identities of businesses and social movement organizations emerge and transform in response to their institutional environments. More recently, his research has begun to examine social media and its influence on individual and organizational reputations. Professor King is an expert in the field of corporate reputation and has been appointed an international research fellow at the Oxford University Centre for Corporate Reputation.
Professor King has published research articles in the American Journal of Sociology, Administrative Science Quarterly, American Sociological Review, Organization Science, and numerous other scholarly journals. He is currently a senior editor at Organization Science, a consulting editor at Sociological Science and the American Journal of Sociology, and has been a guest editor at Organization Studies and Research in the Sociology of Organizations. 
Professor King received his PhD in 2005 from the University of Arizona in sociology and joined the Kellogg faculty in 2008.
Back to top